Sonnax 35 Spline Smart-Tech Big Input Shaft Kit w/ Billet Stator For Dodge Cummins SC-22121B-08K
Sale
Sale
Original price
$1,650.00
-
Original price
$1,650.00
Part Number: SC-22121B-08K
The Sonnax Smart-Tech® Big Input Shaft Kit, 22121B-08K, is the ultimate solution to prevent input shaft spline twist and breakage in high-torque Chrysler 47RH, 47RE and 48RE diesel applications. Compared to the best 300M 23-spline shafts, the Sonnax input shaft is 35% stronger at both the spline portion of the shaft and the sealing ring/cross-hole area of the shaft, eliminating all concerns of failure at these critical points.
The larger sealing ring and cross-hole area require a custom stator/pump cover assembly. The stator assembly features standard 48RE tube splines made of high-strength steel, improved retention in stator body, 48RE matched pump porting, and special rubber seals to eliminate oil leakage between cover and pump body.
The longer direct (front) clutch hub portion of the shaft has longer splines that allow for one extra (OE-thickness) direct friction plate when used with the included thinner billet aluminum direct piston, all while keeping OE-thickness steels, backing plate, OE waved retaining ring and OE clutch clearances.
Some common aftermarket modifications designed to include extra clutches require reduced steel thickness and decrease the heat absorption capacity of the clutch pack. Others reduce clearance and eliminate the waved retaining ring, which contributes to excess 2-3 shift overlap. The Sonnax kit avoids these problems by increasing the number of frictions from five to six, adding to the steel mass of the clutch pack and maintaining the OE thickness backing plate and clearances for the optimum combination of increased capacity and durability.
Extreme duty, 1-1/8" diameter 35-spline input shaft
.100" larger diameter at sealing ring cross hole area
One-piece shaft forged from ultra-high strength 300M steel eliminates weak connection between shaft and clutch hub
Keeps OE oil flow areas and eliminates leakage for predictable, trouble-free lockup, release and apply
Custom stator assembly optimizes performance and long-term durability
Input Shaft - 35 Spline with Extended Hub
Stator Support Assembly
Direct Clutch Piston
Steel Clutch Plate

 

.068" Thick
Seal Rings (3)

 

1 Extra
Quad Ring Seals (4)
The through-holes and cross holes in Dodge shafts are designed by the OEM to optimize converter function. Some aftermarket shafts have smaller holes or are completely solid all the way through in an attempt to make them stronger. The theory is that packing more material into empty spaces makes shafts less prone to breaking, especially at the cross hole area. In reality, this is simply not true — shaft strength and durability have FAR more to do with manufacturing processes than whether there's a hole down the center. Why?
Most all the load is carried on the OUTSIDE diameter of shafts, not the inside.
Reducing cross hole size concentrates stress around a smaller area, putting shafts at MORE risk for breaking, not less.
The amount of added material on a solid input shaft amounts to LESS THAN 1% of its overall strength.
The problems you risk by changing or eliminating oil flow paths are not worth it for the tiny amount of material and torque capacity gained. Inconsistent converter release, premature clutch failure and insufficient lockup apply pressure all can be traced back to poorly-designed aftermarket shafts.
35-Spline Input Shaft
One-piece, ultra high-strength 300M steel forging eliminates weak connection between shaft and direct (front) clutch hub, plus ensures precise shaft/hub alignment
Rugged, fat shaft measures 1-1/8" dia. at spline end and .100" larger in diameter at sealing ring area
Through-holes and cross holes match OE design for reliable lockup, release and apply
Manufactured and tested to very tight straightness and runout tolerances
Custom Stator Assembly
Unique billet pump cover/stator machined after assembly ensures mating components run straight and true
Pump ports match 48RE design
Stator tube with stock spline at converter end features larger serrations to prevent rotation in stator body
Rubber quad rings seal oil passages between pump and stator for proper TCC function
Upgraded bushing and direct drum bushing journal add extra durability
Unique Billet Piston
Taller direct clutch hub works with shorter piston for 20% more built-in clutch capacity
Easily add one more OE-thickness clutch for a six-friction pack, no modifications required
Guarantees best combination of increased capacity and clutch durability
That is why all Sonnax 47RE/RH, 48RE input shafts keep the holes exactly like the OE. It is a key feature of the big shaft system that helps you confidently enhance transmission performance and in no way undermines the shaft's strength.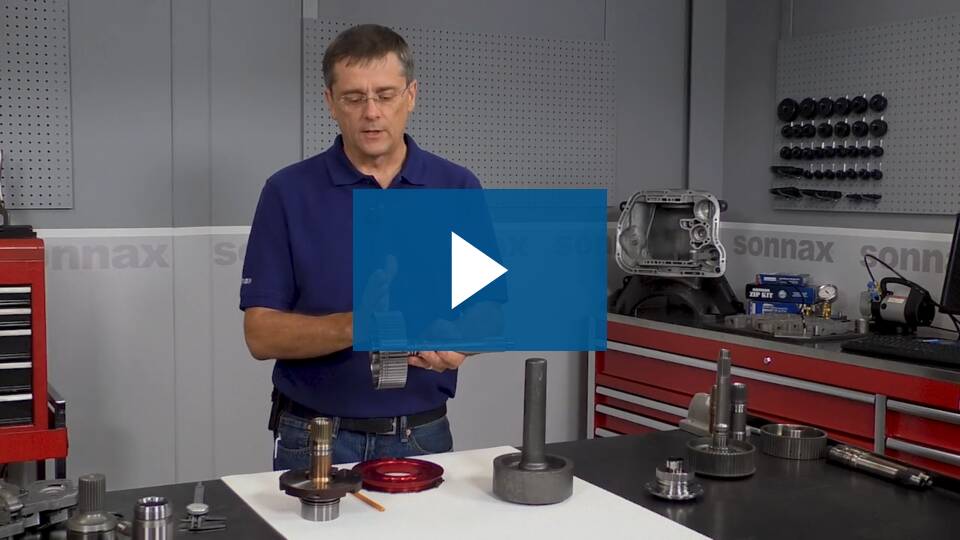 Sonnax Smart-Tech® Big Input Shaft Kit - 22121B-08K